Today I have a breakfast on the go recipe for you. This recipe makes about 3-4 dozen muffins. I make a big batch, keep a dozen out and throw the other 2 dozen in the freezer to whip out and heat up when needed.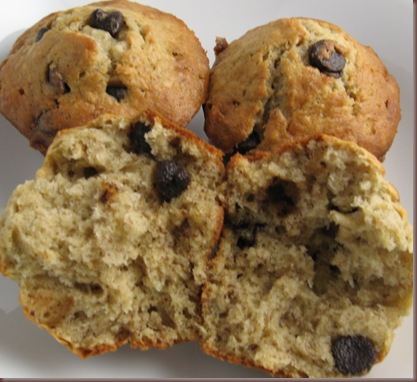 Banana Chocolate Chip Oatmeal Muffins
2 cups (about 4 large) bananas, mashed
2 cups oats, uncooked
1 cup milk
1 cup butter, softened to room temperature
2 cups sugar
4 eggs
4 cups flour
1 Tablespoon baking powder
2 teaspoons baking soda
1 teaspoon of salt
2 teaspoons of cinnamon
2 cups of chocolate chips
Preheat the oven to 375`F. In a medium bowl, combine the bananas, oats, and milk. Set the mixture aside and in a large bowl cream the sugar and butter together until light and fluffy. Add the eggs one at a time, mixing well before adding the next egg. Combine the flour, baking powder, baking soda, salt, and cinnamon in a bowl. Add the flour mixture and the banana mixture alternately to the butter and sugar mixture.
Spray a muffin pan with non-stick cooking spray, and spoon the mixture into the cups. Fill each cup about 3/4 full. Bake for 18 to 20 minutes, or until a toothpick inserted into the middle of the muffin comes out clean. Remove the muffins from the pan and let them cool on a wire rack.
Bag the muffins up, and freeze them for up to 3 months. Pull them out for a quick breakfast, or snack. Slip them in the microwave for 20-30 seconds to warm them up when you're in a hurry.