Peanut Butter Kisses are my absolute favorite cookie to make at Christmas time.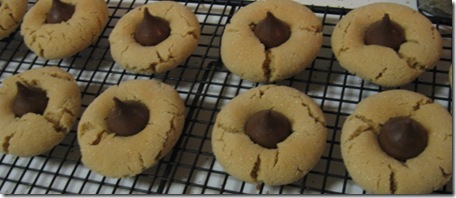 My sister and I got together to bake Christmas cookies last weekend, and this is one of the first batches we made.
But we actually had to make them twice. I'm not familiar with my sister's kitchen, and when I meant to put sugar in the bowl to roll the cookies in, I actually put salt in there. The cookies looked delicious, but tasted very salty.
So we tried again, the second batch was wonderful!
Here's my favorite recipe for Peanut Butter Kiss Cookies:
These cookies are simple to make but oh, so wonderful to eat.
Ingredients:
1 3/4 cups flour
1/2 cup peanut butter
1/2 cup butter
1 egg
3 tablespoons milk
1/2 cup sugar
1/2 cup brown sugar
1 teaspoon baking soda
1/2 teaspoon salt
1 teaspoon vanilla
Mix ingredients together, then form into tablespoon size balls and roll them in sugar. Drop cookie balls onto ungreased baking sheet, and bake for about 10 minutes at 350.` When you remove the cookies from the oven, insert a chocolate kiss into the center of each cookie before the cookies cool.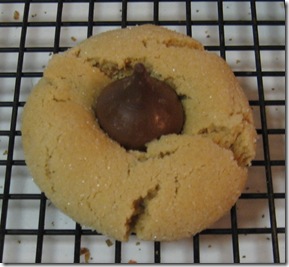 Looking for more Christmas cookie goodness check these out:
50 Cute and Tasty Christmas Cookie Ideas
More of My Favorite Christmas Cookies
Enjoy, and happy Christmas baking!