Do you celebrate Cinco De Mayo at your house? We don't have a huge celebration here, but we do usually try to head out to our favorite Mexican restaurant, or make a few Mexican favorites here at home. I have a couple new recipes I think I might try for our Cinco De Mayo celebration this year, including this recipe from Mission Foods.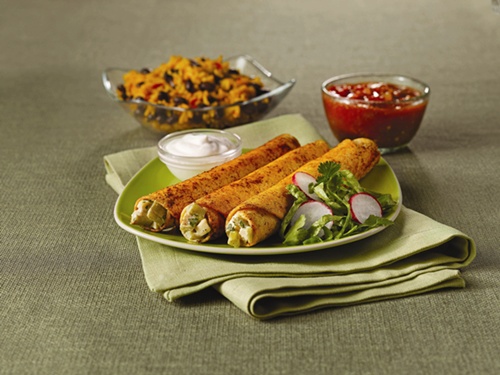 Baked Chipotle Chicken Flautas
Serving Size: 5
Ingredients:
2 cups diced cooked chicken breast meat
1 (10) ounce can of reduced-fat & sodium cream of chicken soup
1/3 cup reduced-fat sour cream
1 (4) ounce can of diced green chile peppers, undrained
1 teaspoon ground chipotle pepper
1/2 teaspoon of ground cumin
1/2 teaspoon of ground coriander
2 tablespoons chopped fresh cilantro
10 Mission small flour tortillas
2 teaspoons canola oil mixed with 1/2 teaspoon of ground chipotle pepper
Directions
Preheat the oven to 450 degrees F.
Mix all above ingredients (except flour tortillas, canola oil, and ground chipotle pepper) in a medium-sized saucepan. Heat over medium heat until hot. Remove from heat.
Place about 3 tablespoons of the chicken filling along the edge of a tortilla. Roll the tortilla up more tight than loose. Put a toothpick through the middle of the flauta to hold in place. Place on a sprayed large baking sheet. Repeat with the remaining tortillas.
In a small bowl, mix together the canola oil and ground chipotle pepper.
Lightly brush the flautas with the oil mixture. Bake until golden brown, about 15 minutes. Cool. Remove toothpicks and slice each flauta on the diagonal. Transfer on your favorite fiesta platter, sprinkle with chopped fresh cilantro and serve with low-fat sour cream and salsa.
I'm a fan of any recipe with cilantro in it. I think I'm a cilantro addict! I can't wait until I'm snipping it fresh from the garden again in a few weeks.