I made this fall table centerpiece a couple years ago, but I've never written about it here! I know it's a little early to find all the things you need, but I'm starting to see quite a few fall decorating ideas in the stores (and even some Christmas ones, oiiiyyy!). The centerpiece didn't cost much, and it was easy to create, but it made a great display on my fall table.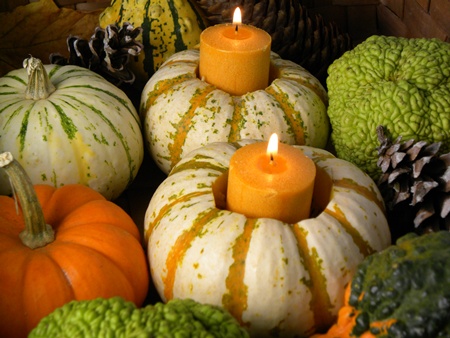 You can use items you might already have on hand from your garden or back yard. Here's what I used:
Assorted small gourds
Pine cones
Votive candles
Hedge apples
Fall leaves (away from the candles)
I put everything in a rectangle basket with low sides to hold it all together for display.
First I cut the center out of some small round pumpkin shaped gourds, then removed the insides and slid a votive candle into the hole. I didn't do a great job of getting the hole the right size. I just eyeballed it. If I made them again I think I would measure instead of winging it. I would also use a glass votive holder around the outside, in case the candle burned too low!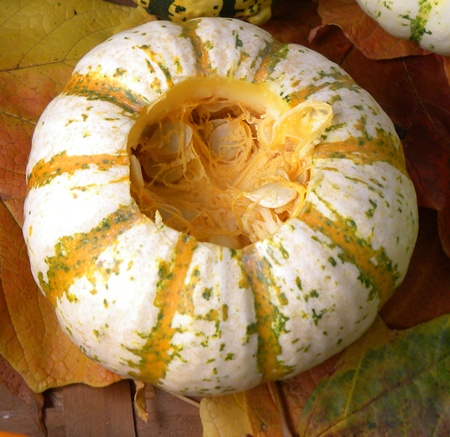 Then I just arranged everything in the basket, and re arranged it until I got the look I wanted. The display did turn out very nice over all. I tried it with just the votives with the gourds, some pine cones, and a couple hedge apples. I added a round candle that I had to the centerpiece. I couldn't decide whether I liked the round candle, or just the votives.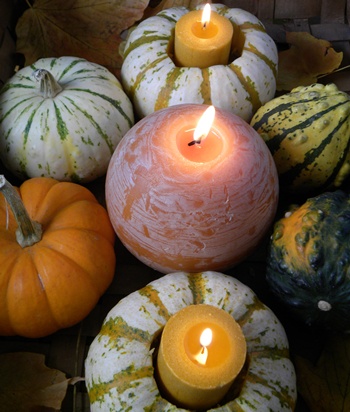 It made a great addition to our fall table. I think it would make a great centerpiece idea for a fall party, or for your Thanksgiving feast. Just be careful your candles don't burn too low (keep an eye on them), or put them down inside a glass votive holder before you insert them into the gourds!
Image (c) L Gerlach