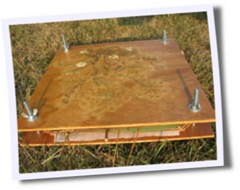 Pressing leaves and flowers is a great way to preserve your summer or fall memories.  After pressing  your leaves or flowers they're great to use on cards, in frames, for Thanksgiving placemats, or place cards, on Christmas ornaments, and in other keepsake items.
You can press your flowers by placing them between the pages of a heavy book, or you can put them in a press. You can either purchase a leaf press, or you can make your own.
Materials:
2 pieces of plywood 1/8 to ¼ inch thick 12" x 12" (Square)
4 washers
4 carriage bolts 3"
4 wing nuts to fit carriage bolts
Small jar, or spray can of polyurethane or paint
6 pieces of cardboard 12" x 12"
Drill a hole in all 4 corners of each board about 1" from the edges of the board.
Polyurethane the board, or paint the outside if you want to give it some style.
Insert the carriage bolts into the holes on one of the boards.
Cut triangles out of the corners of the cardboard, so the cardboard can lay inside the bolts on the board.
Gather some fall leaves, or flowers and place them between the cardboard layers on your press.
Place the other board on top, putting the other end of the bolts through the holes.  Place the washers on the bolts, then tighten the wing nuts down on the bolts.  Tighten all four bolts evenly.
It can take several days to several weeks for flowers to dry.  Check the leaves periodically. When your leaves are dry have fun using them in some of the fun projects listed above.