Today was easier than yesterday, since it was pretty much an ordinary week day, except for my son being home from school. I made extra last night for supper so I had plenty for lunch today. I did try a new recipe for dinner today, a cilantro citrus chicken. It was super easy, and a recipe I'm definitely planning to try again!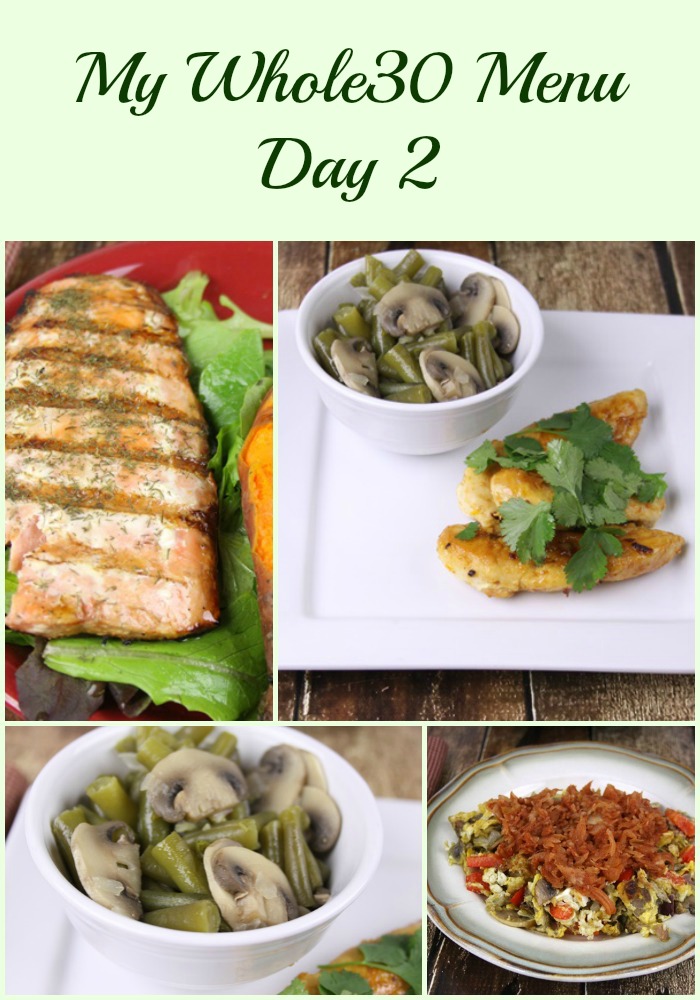 Day 2 Whole30 Breakfast Menu:
I wasn't very original with breakfast today. I had the same thing I had yesterday.
Day 2 Whole30 Lunch Menu:
I had leftovers from last nights dinner here.
Grilled Lemon and Dill Crusted Salmon
Slow baked sweet potato , topped with about a teaspoon of clarified butter.
Day 2 Whole30 Dinner Menu: 
We had some green beans and one piece of cilantro citrus chicken left for breakfast or lunch tomorrow if I need it. The green beans are an old favorite of my husbands, but neither my husband or my son were sure about the chicken. Both did say they'd eat it again if I made it. They're way more picky about trying new things than I am! I thought the chicken was delicious! I loved the citrus flavor. I might try it again without the spices.
I forgot to write down my starting measurements yesterday, so I did that this morning. I also did 25 minutes on my treadmill in intervals, walking, climbing, and a little running. Tomorrow morning Piloxing if the roads aren't icy!