I decided to participate in the Whole30 program starting today. I've been kind of following the plan for the last few weeks, but I didn't want to start officially until today with all of the holidays and events over the last few weeks I didn't want to start when there were so many temptations out there to take me off the program. You can check out my Whole30 progress as I follow the program here: Whole30 Progress along with meal plans, recipes and resources.
One of my favorite lower carb breakfast recipes is this southwest egg scramble. I give you amounts in the recipe, but to be honest, I just chop and dice and throw it in the skillet most days. Pair this with a side of fresh fruit or one of my faves raw taco kraut and you have  the perfect breakfast, or lunch within about 10 minutes. Make it even easier by chopping your veggies the night before.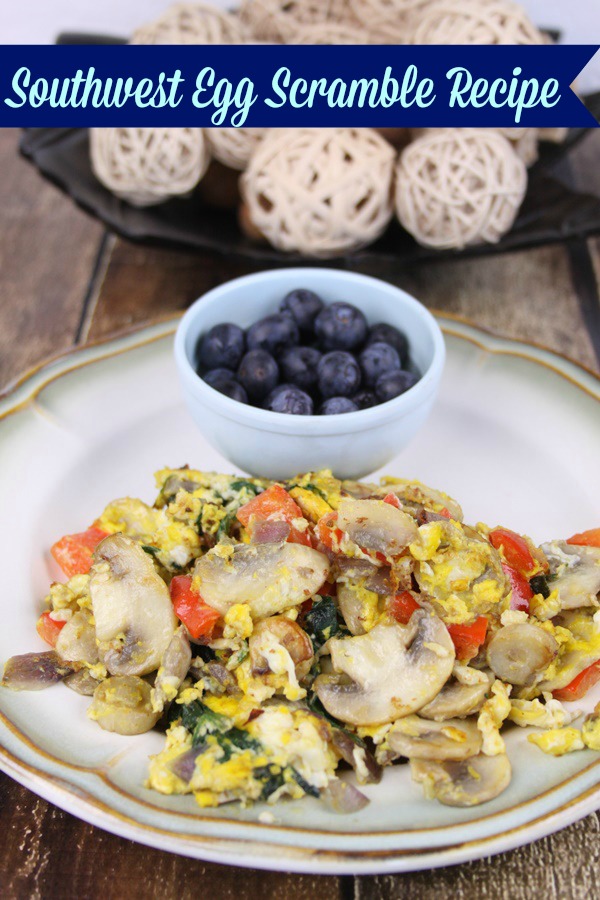 Southwest Egg Scramble Recipe
This recipe is super quick and easy to make for breakfast or anytime you need a fast meal. This recipe serves 1, but you can double or triple it to serve the whole family as a side dish.
Ingredients
1/4

cup

chopped yellow

red or green pepper

1/4

cup

diced red onion

1/4

cup

sliced mushrooms

1

clove

garlic

minced

2

eggs

handful baby spinach leaves

1

tablespoon

olive or coconut oil
Instructions
Add the olive or coconut oil to a medium saute pan and heat to low-medium heat on the stove top.

Add in the diced and sliced peppers, onion, mushrooms and minced garlic and let them saute for a few minutes until they start to get tender.

Throw in the spinach leaves.

Add the eggs to the top and scramble them into the veggies.

Flip a couple times and remove from the heat.

Serve them up hot with a side of fresh fruit.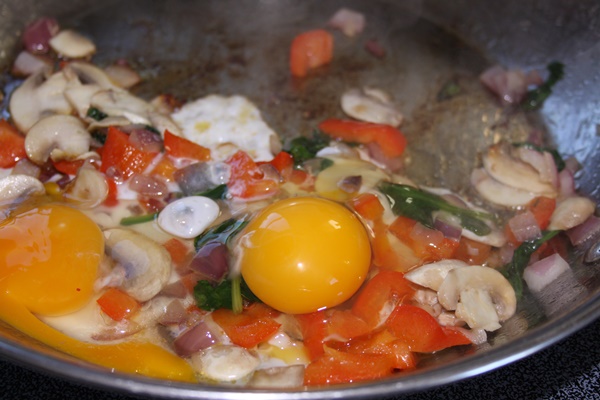 Find more recipes and resources I've been checking out here: Whole30 recipes and resources. Please note~ I am not associated with the Whole30 program, just giving it a try and documenting my results to stay on track. This recipe is also gluten-grain free, and Paleo friendly.