This time of the year I CRAVE the flavor of pumpkin! I've been making pumpkin everything the last few weeks. I've also been converting some of my old pumpkin favorites to gluten and grain free recipes, or finding new recipes to adapt to fit my needs. I have several recipes to share over the next week or so, but the first one is a pumpkin almond flour muffin I've made a couple times now. The last two times I made them I've made a double batch and slipped some of the muffins into the freezer for later.
Pumpkin Almond Flour Muffins Recipe
Ingredients:
2 1/2 cups almond flour
1/2 t baking soda (gluten free)
1/2 teaspoon salt
2 teaspoons cinnamon
1/2 teaspoon ground nutmeg
1/4 teaspoon ground ginger
2 eggs
1/2 cup pumpkin puree
1/4 cup honey
1/4 cup coconut oil (slightly melted)
1 1/2 teaspoons vanilla
Directions:
1. Preheat the oven to 325`F.
2. Combine the first 6 ingredients in a small mixing bowl (dry ingredients).
3. Combine the eggs, pumpkin honey coconut oil, and vanilla in a medium mixing bowl, and beat on low to medium speed with a mixer until combined.
4. Slowly add in the dry ingredients until they're all combined.
5. Fill each paper muffin cup about 3/4 of the way full with the mixture and bake for about 20 minutes.
6. Remove the muffins from the pan, end let them cool for a few minutes on a cooling rack.
These muffins are delicious when they're still warm from the oven! They're very moist and bread like. Something I miss sometimes now that I'm gluten free!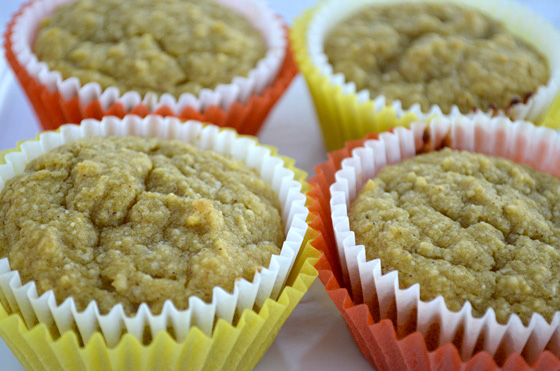 This recipe will make about a dozen muffins. You can have them for breakfast, serve them up with soup, or take them along to your families Thanksgiving feast. Most people won't even know they're gluten free unless you tell them.
These muffins would also be delicious with a few chocolate chips folded into the batter right before you baked them for a little extra twist!