I've been really hungry for pumpkin cheesecake lately, so I decided tonight I was going to make one. A friend of mine gave me a recipe for pumpkin cheesecake several years ago, but I couldn't find it in my recipe box tonight. Not sure what I've done with it.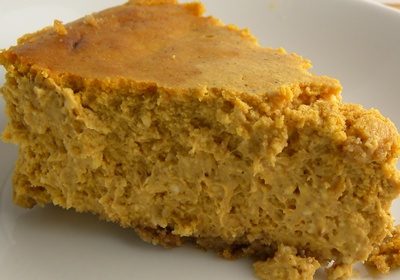 I decided to give Paula Deen's pumpkin cheesecake recipe a try, so here is my adapted version of the recipe. I'm never good at following a recipe perfectly, I always have to make a few little changes. Plus after two trips to the grocery store in one day, I didn't have any sour cream in the fridge (head slap).
Pumpkin Cheesecake
Crust:
1 3/4 cups graham cinnamon cracker crumbs
2 tablespoons light brown sugar
1 stick melted salted butter
Filling:
3 (8-ounce) packages cream cheese, at room temperature
1 (15-ounce) can pureed pumpkin
3 eggs plus 1 egg yolk
1 1/2 cups sugar
1 teaspoon ground cinnamon
2 teaspoons pumpkin pie spice
2 tablespoon all-purpose flour
1 teaspoon vanilla extract
Directions:
Preheat your oven to 350`F. Mix the crust ingredients together, then pat them in the bottom of a Non Stick 9-Inch Springform Pan
.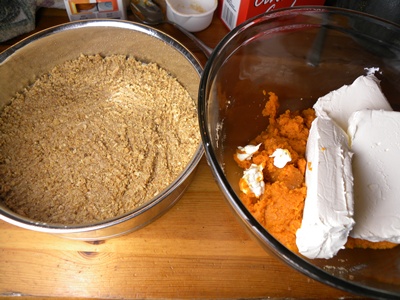 Beat the cream cheese to soften it up. Combine all the filling ingredients in a large bowl, until they're all well mixed together. Pour the filling on top of the crust. Put the springform pan into a little larger baking dish, and put an inch of water in the bottom of the baking dish. Slide the whole thing in the oven and bake it for one hour.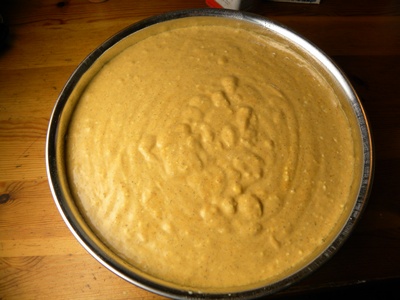 Once the cheesecake is finished baking remove it from the oven and let it sit for about 15-20 minutes. Then cover it with plastic wrap and slide it in the refrigerator for at least 4 hours. I put mine in the fridge over night.
We ate some of the cheesecake in slices, but I used some to make these adorable pumpkin cheesecake pops, dipped in white chocolate. One thing led to another, and I ended up dipping the pumpkin cheesecake pops in melted orange chocolate to make little pumpkin cheesecake pumpkins (hop over and check them out I posted them at The Kid's Birthday Fun Review).