It's fall party season, so today I thought I'd share a fun recipe from Diamond Nuts, and Pop Secret that would be great for fall parties. I think these popcorn buckets are really a cute idea! You can change the container, and the color of the tissue paper and you can use this for any party theme.
This recipe is from Chef Tina Salter, a cookbook author and creator of exclusive recipes for Diamond Foods. You can find more recipes for easy entertaining at the Feed Your Fingers website.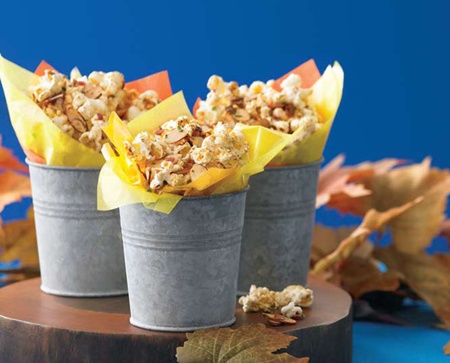 Spicy Maple Bacon, Pop Secret Homestyle Popcorn with Diamond Almonds
Makes about 7 c.
6 c. Pop Secret Homestyle Popcorn, popped
12/3 c. (6 oz.) Diamond Sliced Almonds
1 t. chipotle chile powder
1/4 c. maple syrup
3/4 c. bacon bits
1/4 c. chopped Italian parsley
1/2 t. sea salt crystals
Preheat oven to 350 degrees.
Spread Diamond Sliced Almonds on a large baking sheet. Toast, stirring occasionally, about 8 mins.
In a large bowl, combine the toasted almonds, Pop Secret Homestyle Popcorn and chipotle chile powder; toss well.
Add the maple syrup; toss again. Transfer the mixture to baking sheet; bake, stirring occasionally, until dry and toasty, about 20 mins.
In a large serving bowl, combine nut and popcorn mixture, bacon bits, parsley and salt; toss well. Serve immediately.
Image and recipe fromDiamond Foods