White chocolate chip cranberry cookies are a holiday favorite at our house. The cranberries give them a festive color and flavor that fits right in with the season. Today I'm going to share my favorite recipe for white chocolate chip cranberry cookies. The recipe is adapted from Taste of Home, I hope you enjoy it.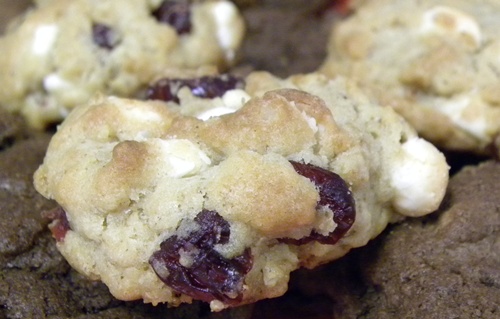 White Chocolate Chip Cranberry Cookies
1/3 cup butter, softened
1/2 cup packed brown sugar
1/3 cup sugar
1 egg
1 teaspoon vanilla extract
1-1/2 cups all-purpose flour
1/2 teaspoon salt
1/2 teaspoon baking soda
3/4 cup dried cranberries
1/2 cup vanilla or white chips
Cream the butter and sugar together in a large bowl, then beat in the egg and vanilla and set aside. In another bowl combine the flour baking soda and salt.
Gradually add the flour mixture to the butter mixture, stirring everything together as you go. When the flour and butter mixture are well mixed together fold in the white chocolate chips and the cranberries.
Drop the cookies by heaping tablespoonfuls onto a greased baking sheet and bake at 375`F for about 8 to 10 minutes, or until the cookies are just starting to turn a golden brown.
Let the cookies cool for a few minutes on a wire rack, then enjoy!