I have a yummy summer grilling recipe today that would be the perfect addition to the menu for your Father's Day cookout. This delicious recipe is courtesy of Tabasco.
This is truly a no-fuss recipe combining classic barbecue flavors with a touch of heat with the Tabasco sauce. The results are a tasty tribute to dad. I don't know about your house, but at our house we always have at least one bottle of Tabasco hanging out in the fridge for just such an occasion.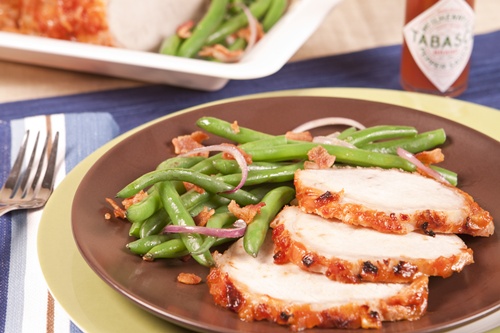 Spicy Barbecued Pork Loin

1 tablespoon vegetable oil
1 medium onion, finely diced
1/2 cup ketchup
1/4 cup packed dark brown sugar
2 tablespoons cider vinegar
1 tablespoon original Tabasco® brand pepper sauce
1 teaspoon salt, divided
1 (2-pound) boneless pork loin, about 6-inches long
Preheat oven 350° F.
Heat oil in small 2-quart saucepan over medium heat; add onion; cook about 5 minutes or until softened. Add ketchup, brown sugar, vinegar, Tabasco sauce and ½ teaspoon salt. Set aside ½ cup sauce.
Rub outside of pork roast with ½ teaspoon salt. Place in roasting pan; top with sauce mixture to cover completely. Cover pan tightly with foil and cook 1 hour.
Meanwhile, preheat grill to medium. Place pork on grill; cook, covered 30 minutes, turning frequently, and brushing with reserved sauce until meat thermometer reaches 160° F.
Serves 8.
Serving Suggestion: Sautéed green beans and sliced red onion; toss with cooked, crumbled bacon.
Leftover Suggestion: Slice leftover pork; place on rye bread; top with deli sliced ham, sliced Swiss cheese, pickle slices, mustard and rye bread slice. Press in a pannini machine until sandwich is golden and cheese is melted.