One of my favorite healthy summer snacks is a fruit and yogurt parfait. Just like the one you can get at the fast food restaurant (only healthier).
Fruit and yogurt parfaits are super simple to make, and they look elegant enough for a summer brunch. Make them by layering fruit and yogurt into a parfait, or wine glass. Top the parfait off with a few more pieces of fruit and a sprinkle of granola cereal.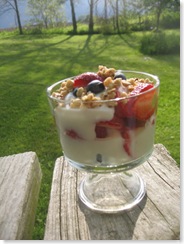 My favorite ingredients this time of year are strawberries, raspberries, and blueberries, with organic vanilla yogurt. Chocolate yogurt is yummy too, with the berries.
If it's not berry season, you could also use bananas, peach slices, or blackberries with your favorite flavor of yogurt. They're also very yummy in the fall with apple slices, and vanilla yogurt topped with walnuts. You can make individual servings, or layer several layers in a trifle bowl for a summer dessert. Serve the granola on the side, and let your guests create their own.