I love homemade spice mix recipes! They can save you big money at the grocery store, and you know exactly what's in them! No additives, preservatives, or extra salt thrown in! Make these spice mixes up ahead of time and have them in your cupboard, or in your freezer, ready to go when you're ready to use them! I like to set aside an afternoon and make up a few of these, it doesn't take long. Once they're made up it's just as easy as buying the pre-made spice mixes at the grocery, but cheaper, and you know exactly what you're getting!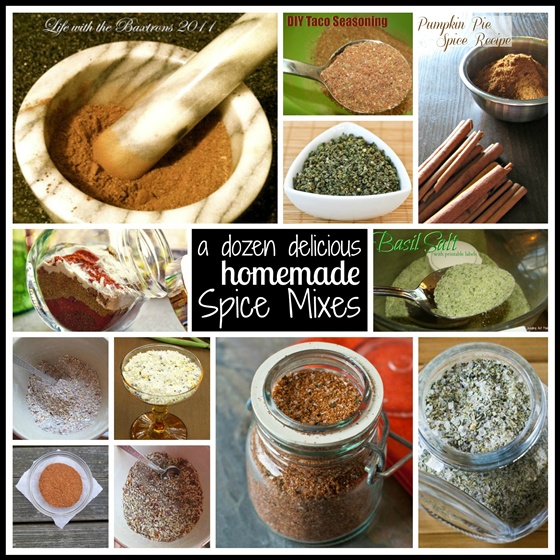 The homemade pumpkin pie spice is one of my favorites this time of year, but I also make my own taco seasoning mix on a fairly regular basis. Have you ever read the label on the taco seasoning mixes in the store? There is a ton of salt in them, and other things besides spices!
The lemon basil garlic salt would be delicious on grilled salmon, and I love making up my own chili seasoning to go with the tomatoes from my garden I use for the sauce!
We grill year round, so I'm always looking for new rubs to have on hand for an easy week night supper on the grill!
Do you have any favorite spice mixes you like to keep on hand?