I had a spaghetti squash sitting on my kitchen counter taking up space since late fall, so I thought I'd put it to good use today! So I boiled it! I browned some chicken breasts, in a large skillet and added in some mushroom, onion and garlic before I topped it off with some tomato sauce, oregano and basil to make a chicken marinara. Normally I would add in some Parmesan to make my family happy, but I've been completely dairy free for several weeks and I'm not going to turn back now! Of course my family added Parmesan to theirs later….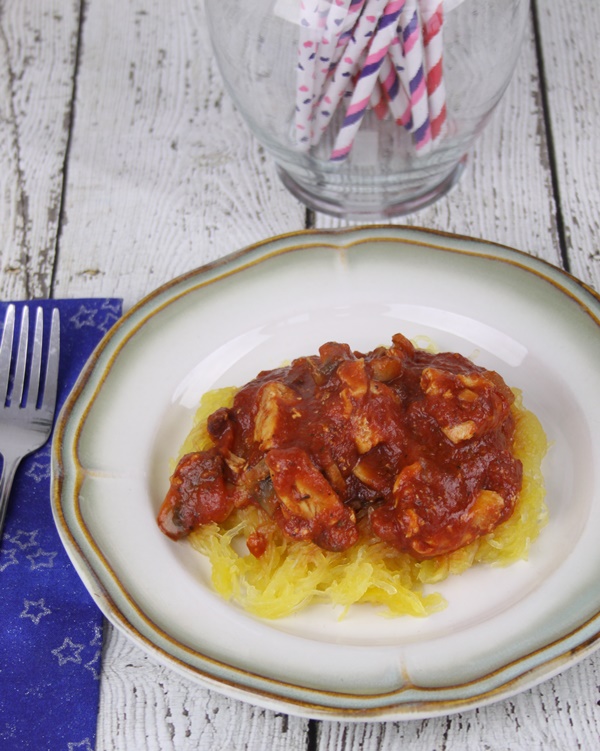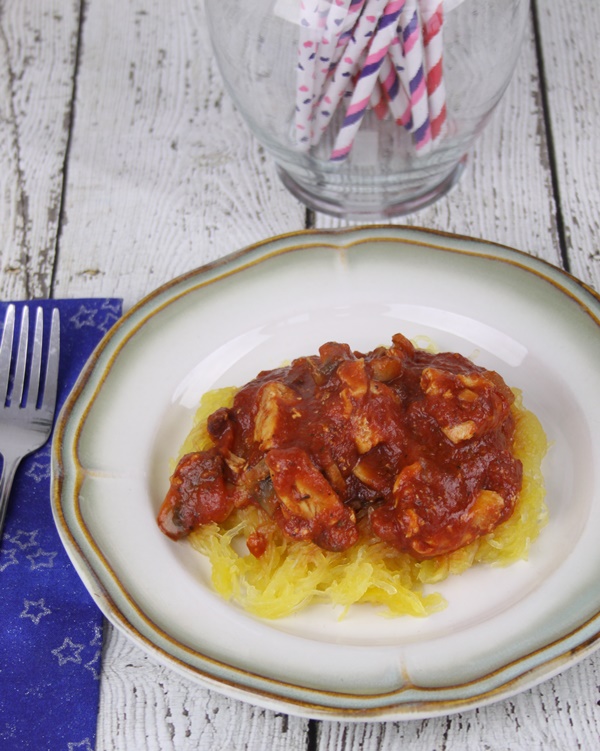 Chicken Un-Parmesan Spaghetti Squash
Ingredients
1-2

spaghetti squash (depending on size

1

pound

chicken breasts

32

ounces

tomato sauce

1- 6

ounce

container mushrooms

sliced

1/2

red onion

chopped

3

cloves

garlic

minced
Instructions
Boil the spaghetti squash, whole in a large pot until soft when you push on it. You may need to turn the squash to get it cooked evenly, and if you put a lid on the pot it will speed up the cooking process.

While the spaghetti squash is cooking, brown the chicken in a large skillet with coconut or avocado oil. Before or while it's cooking, chop the chicken into bite size pieces.

Add the mushrooms, onion, and garlic into the chicken and saute all for a few more minutes.

Add the tomato sauce, oregano, basil and simmer for about 10 more minutes at a low heat.

Once the spaghetti squash is cooked through, remove it from the pot of water and let it sit for a few minutes until slicing it in half.

Remove the seeds from the middle of the squash and set them aside. Scrape out the "spaghetti" with a fork.

Put about 1 cup of spaghetti squash on your plate and cover with the chicken marinara sauce.

Enjoy!
Spaghetti squash is super simple too prepare, just boil until soft, then let it sit for a few minutes to cool. Cut the squash in half and remove the seeds. Use a fork to loosen the strands of the spaghetti squash.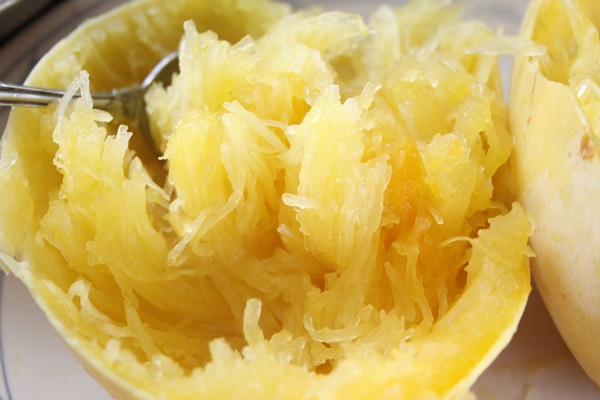 You can also freeze any extra for future use and simply thaw and warm it and add your favorite sauce.
The best part is this recipe is grain free, gluten free, dairy free, and I'm using it as part of my menus for Whole30.