I decorate cakes and cupcakes on a regular basis. Whenever I have cake scraps leftover, I usually throw them in a container and store them in the freezer to use later. Sometimes I end up using them in other cakes, sometimes I end up throwing them out after a few weeks.
This time of the year I like to pull them out to make a quick and easy strawberry dessert. I used some of the chocolate cake pieces to make mini trifles, because I love chocolate and strawberries together (can you say heaven).
I have some mini trifle bowls, so I actually made 3 mini trifles, instead of one large trifle. You could layer this in a large trifle bowl if you have one, and take it to a summer party, or layer it in wine, or dessert glasses to serve at a sit down dinner.
Even if you have to bake the cake, this is still a super easy, refreshing summer dessert.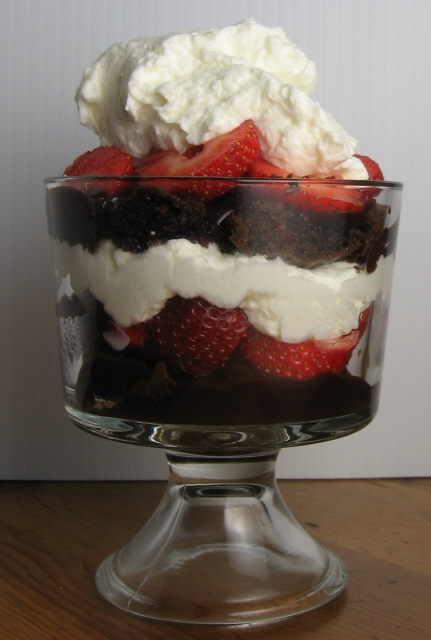 Chocolate Strawberry Trifle
Ingredients:
chocolate cake pieces
chocolate syrup
strawberries
fresh whipped cream
I layered in chocolate cake, chocolate syrup, strawberries, then whipped cream. Then I repeated all the layers again.
It's a delicious way to get your chocolate fix for the day!