Yay! Day 3 and still going strong here. I'm actually loving the food I've put together the last couple days. I am missing chocolate avocado pudding as a snack. I may try making it tomorrow with 1/2 of a banana instead of honey, or coconut sugar. I've been trying to keep the carbs to a minimum so I haven't had it the last couple days. Maybe I'll have to get my avocado fix another way! I forgot to add it to my taco salad tonight!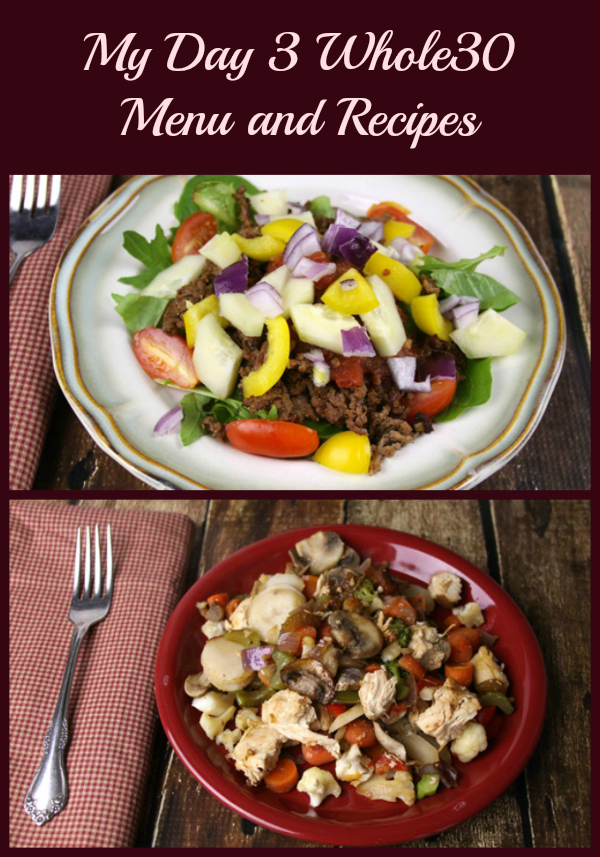 You can check out all my Whole30 menus and experiences.
Here's my Whole30 menu for  day 3.
Day 3 Whole30 breakfast menu:
I went to Piloxing this morning, so I didn't have much time and I didn't want to eat much for breakfast.
I grabbed a piece of leftover Citrus Cilantro Chicken and an apple and headed out the door.
Day 3 Whole30 lunch menu:
By lunch I was starving! I stopped at the grocery after Piloxing and picked up a few things including some sunflower seed butter.
stalk of celery with sunflower seed butter
Day 3 Whole30 dinner menu:
a handful of kale chips
I cleaned out the fridge today of all of the foods we had over the holidays. I was hoping to get that done before I started, but today was the day! Tomorrow I'm hoping to slice and dice up some veggies for next week so I'm prepared to get back to a regular work/ life schedule. I just want to make sure I'm prepared so I don't reach for the wrong foods because I'm hungry and want something quick.