This post contains affiliate links.
Can I take my knee scooter through the airport? Can I take my knee scooter through the TSA checkpoint? Navigating the airport with a knee scooter, these were some of the questions I researched for my trip to Austin Texas a few weeks ago when I knew I would be traveling via the airport with a knee scooter! When I was doing my research, I couldn't find a whole lot of information on the subject. I decided to write about my experiences and tell you all how I did getting through the airport on MY knee scooter.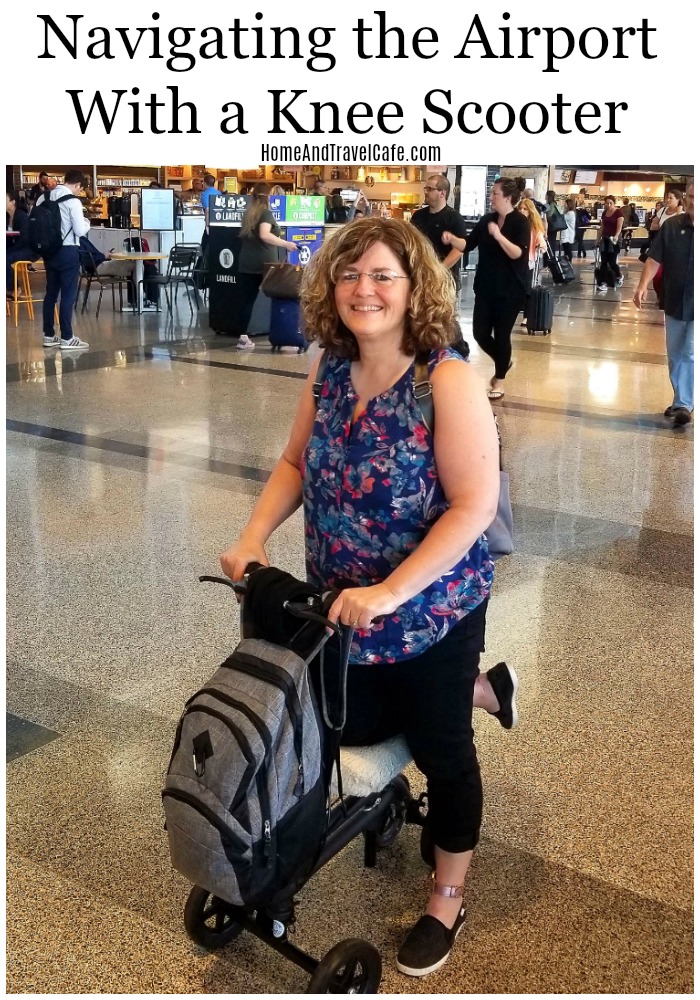 Back in January I slipped and fell on the ice on the sidewalk in front of our house. I dislocated my ankle and fractured my leg. So I had surgery to put it all back together which also meant a steel plate and 9 screws in my leg. They splinted my leg for about 2 weeks after the surgery. I spent another 6 weeks in a pretty purple cast, and another 2 weeks with a walking boot from hell.
When I first heard the diagnosis I knew it would be a while before I was walking again. I started researching my alternatives for getting around. I've broken my leg before, and I know crutches torture your arms, but we stopped and bought a pair since they're a necessary evil with a broken leg! These covers for the arm pads made the crutches tolerable. They saved my armpits! I also researched and purchased this knee scooter, this basket, and this cover from Amazon. I'm glad I invested in all these things. The scooter made my experience much easier. It made getting through the airport with a bum leg possible.
Knee Scooter Airport Travel Tips and Tricks
When I broke my leg, I already had tickets to a blogging conference in Austin (Mom 2.0). I didn't want to miss out on the experience! BUT I had just gotten my walking boot off, and was still struggling to walk. I really worried about getting into the airport and not being able to get where I needed to go. Walking was still slow and a little painful.
I have to say my airport experience with my knee scooter was overall good… just a couple rocky moments.
The first thing I did was search: Can I take my knee scooter through the airport? I found some great info!
Many articles recommend calling ahead to your airline to confirm you can take your knee scooter all the way to the gate. I did this. The customer service person I reached was very helpful, and answered all my questions. In all the airports I visited it was no problem at all navigating through the airport on my knee scooter.
Can I Get Through The TSA Checkpoint With My Knee Scooter?
My only hiccup was in the TSA check when I was coming home. I sent my scooter through separately both ways since I could walk some on my own. When I was going the TSA had me take the cover off the scooter seat, and I should have done that coming home too. For some reason the scooter set off an alarm, so it had to be checked again, and they took the cover off and sent it through separately and all came back fine the second time. I still of course had to have a full pat down. It wasn't my first since I travel frequently, and I'm sure it won't be my last! I got through it.
I made sure to check in at each gate prior to boarding to see if they wanted me to board first (most did, but I didn't want to assume), or with everyone else. Another important question, ask the gate person what tags you'll need for your scooter. One important tip I learned, MAKE sure they store your knee scooter with the strollers and wheelchairs, not with the gate checked baggage so you'll have it as soon as you get off the plane. Otherwise you'll have to wait until they unload everyone's roller bags. This is super important if you have a tight connecting flight!
My return flight had less than an hour layover between flights, and I was definitely glad to have my knee scooter to get from one end of the airport to the other! The gate attendant did offer to get me assistance if I needed it, but I asked them how many minutes it would take to walk it normally and they said 10-15, thanked them and decided to get some one legged steps in with my scooter, and save the riding for someone who really needed it. I strapped my Fitbit on my good ankle and headed to my gate!
For the trip I took the basket off the front of my knee scooter, and strapped on a backpack to the front, and carried a smaller backpack on my back. I also had to do a checked bag, it was a wheeled bag that could go in any direction, so I could guide it from my scooter, but I had help on both ends getting that bag in and out of the airport thankfully.
I hope these knee scooter airport travel tips and tricks help you! Do you have tips and tricks for navigating the airport with a knee scooter?