Here's a fun spring treat idea you can make with your family! These Rice Krispies Treats® are also perfect for welcoming the warm weather of spring and summer.
Rice Krispies Treats® are so darn easy to make, and who doesn't like them? I love the commercial when the lady sprinkles flour on her face so it makes her look like she's spent hours in the kitchen when she brings out her Krispy treats.
Your kids will love helping you make and decorate these delicious spring treats. You can wrap them up for a spring party, or a garden tea. They'd also be fabulous for a Mother's Day brunch.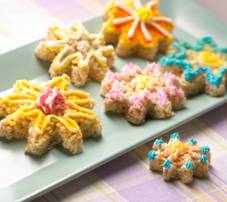 Kellogg's® Rice Krispies Treats® Springtime Flowers
Preparation Time: 20 minutes
Total Time: 40 minutes
Makes 12 servings
Ingredients:
3 tablespoons butter or margarine
1 package (10 oz., about 40) regular marshmallows – or – 4 cups miniature marshmallows
6 cups Rice Krispies®
Canned frosting
Assorted candies
How to make it:
In large saucepan melt butter over low heat. Add marshmallows and stir until completely melted. Remove from heat.
Add KELLOGG'S RICE KRISPIES cereal. Stir until well coated.
Using buttered spatula or wax paper evenly press mixture into 15 x 10 x 1-inch pan coated with cooking spray. Cool slightly. Using cookie cutters coated with cooking spray cut into flower shapes. Decorate with frosting and/or candies. Best if served the same day.
Microwave Rice Krispy Treat Directions:
In microwave-safe bowl heat butter and marshmallows on HIGH for 3 minutes, stirring after 2 minutes. Stir until smooth. Follow steps 2 and 3 above. Microwave cooking times may vary.
Special Notes
For best results, use fresh marshmallows.
1 jar (7 oz.) marshmallow crème can be substituted for marshmallows.
Diet, reduced calorie or tub margarine is not recommended.
Store no more than two days at room temperature in airtight container.
To freeze, place in layers separated by wax paper in airtight container. Freeze for up to 6 weeks. Let stand at room temperature for 15 minutes before serving.
Kellogg's has reduced the sodium content of Rice Krispies to meet current consumer flavor- and nutrition-preferences. Rice Krispies Treats made with the lower sodium cereal taste great without any added salt, but, if you desire, add 1/4 teaspoon salt to the butter before melting. Continue with recipe as directed.
Make them for treats for grandmas, aunts, mother in laws, and good friends for a special homemade Mother's Day treat.
Image and recipe courtesy of Kellogg's