Two of my favorite flavors this time of year are strawberry and rhubarb. Both are in season and delicious her in Ohio! I love walking out to the garden to pick fresh red strawberries and cutting of stalks of rhubarb to add to my favorite grain free strawberry rhubarb crisp gluten free recipe.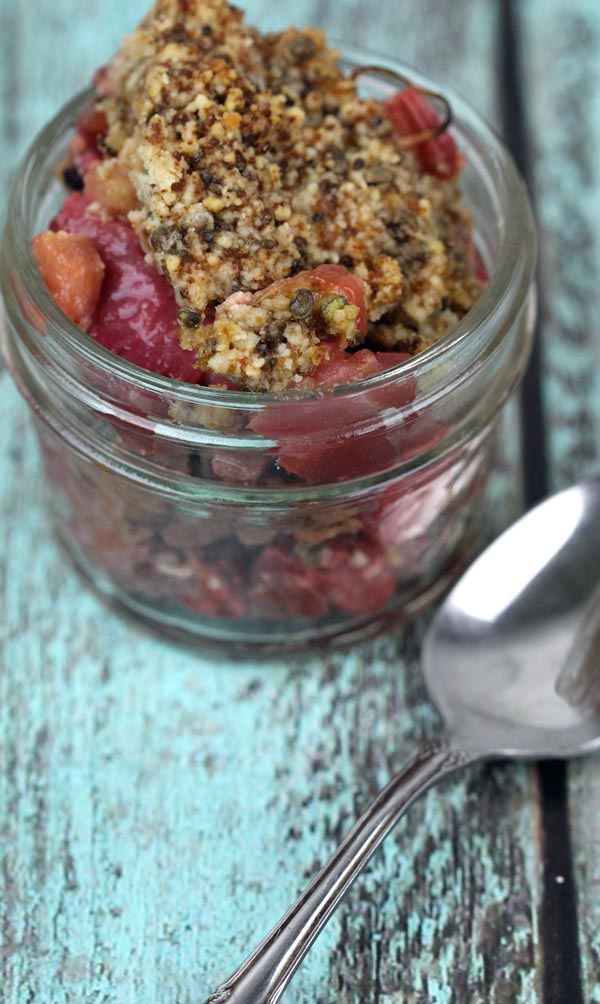 Strawberry Rhubarb Crisp- Grain Free- Gluten Free
Ingredients
1

pint

strawberries

2-3

stalks rhubarb

1

cup

almond flour

1/4

cup

coconut sugar

1/4

cup

coconut oil. melted

1

tablespoon

chia seeds

1

tablespoon

hemp seeds
Instructions
Preheat oven to 350 degrees Fahrenheit.

Dice the strawberries and rhubarb. Mix in 1 tablespoon of the coconut sugar and put into a 1 quart baking dish.

In a small bowl mix together the almond flour, the rest of the coconut sugar, the chia seeds, hemp seeds and the coconut oil. Combine until everything is moist from the oil.

Spoon the almond flour mixture over the top of the strawberry rhubarb mixture and spread it evenly

Bake at 350 degrees Fahrenheit for about 20 to 30 minutes, or until the top starts to brown and the fruit juices are bubbling around the edges.

Let it cool, or serve warm out of the oven with vanilla coconut ice cream. Yum!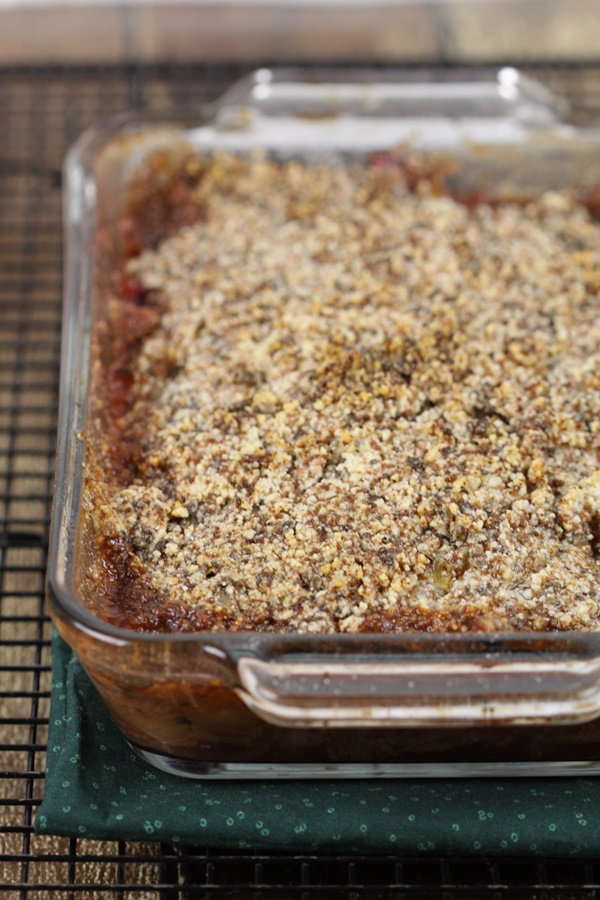 I love this strawberry rhubarb crunch warm out of the oven! It's so delicious this time of the year when the strawberries are ripening on the vine and the rhubarb can be cut fresh from the patch right outside our front door. The hemp seed and almond flour give this recipe a bit of a nutty flavor. The strawberries along with the coconut sugar lend a sweet flavor, and the rhubarb and strawberries also give a bit of a tart flavor. All of these flavors combined make this a delicious dish for late spring, early summer. Throw in a little gelatin and it will even thicken up the juices once it's cooled if that's what you're looking for.